Hannaian International Realty (H.I.R.), is a fully certified BRI, CRS, Real Estate Brokerage based in Nassau, Bahamas.
Hannaian International Realty Listings & Research is a division of Hannaian International Realty. It is a primary source of title and other property related research in the Bahamas & Caribbean. Full Real Estate Brokerage services are also provided.
H.I.R. specializes in high end properties for investment & second home purposes. In addition to real property title research, and brokerage services, H.I.R. offers specialty services in ancestral property searches for Caribbean descendants currently abroad who need research into their ancestral property holdings in the region.

Valerie Hanna-Wells is President of Hannaian International Realty. Broker Hanna-Wells has been in the Real Estate Business since 1998, and is a former Committee Member of the Bahamas Real Estate Association (Brokers-Sales Agents, and Appraisals Committees). She also worked in the Bahamas Land and Surveys Department where she organized the Revenue System, and also worked as land manager. She is BRI, CRS Certified.
Hannaian International Realty
Listings & Research
Bahamas Multiple Listings
A Publishing Subsidiary of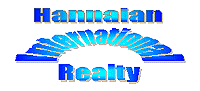 The Bahamas Preferred Real Estate & Research Service - BRI, CRS Certified
Contact info:
USA: 1-561-337-5946
Bahamas: 1-242-324-0192
Primary Website
http://hannaian.com/realty